https://lifehacker.com/the-lifehacker-g ... 1821711729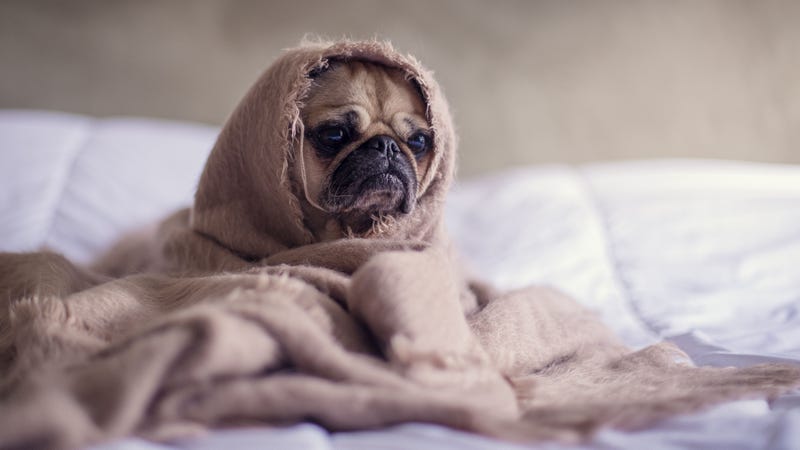 Use these tips as a mix-and-match guide: the more you add, the warmer your bed will become!
Add extra blankets. (Yes, that's kind of a no-brainer, but we have to start somewhere.)
Layer your blankets in the right order. Put knitted or crocheted afghans under your quilt/duvet, not on top—knit fabrics have air pockets that can trap warm air and keep it in the bed where it belongs. You could even put an afghan between the sheets for extra warmth.
If you're shopping for an electric blanket, read our guide—and consider a heated mattress pad instead.
If you don't want to pay for a heated mattress pad—or need a way to keep warm while you're waiting for your mattress pad to arrive—try putting a blanket or quilt under your fitted sheet. This DIY mattress pad will help trap body heat inside the bed.
Take a blanket and wrap it around you like a burrito before getting into bed. This is also a great way to trap body heat and use it to keep you warm.
Invest in a good set of flannel sheets if you haven't already.
Layer up. Wear leggings under your pajamas, wear a sweatshirt over your pajamas, wear two pairs of socks. Add gloves and a woolen hat if you want.
Use a hot water bottle or one of those microwavable beanbags to warm up your feet—or put a heating pad at the foo of your bed. (There's nothing worse than not being able to sleep because your feet are cold.)
If you are warming up your bed with heating pads or hot water bottles, put them in your bed at least 10 minutes before you get in. You could even put them in an hour ahead of time, so your bed will be nice and warm when you're ready to sleep.
Take a hot shower right before bed. It'll warm up your body—giving you heat you can take under the covers with you—and if you leave the bathroom door open while you shower, the steam will warm up the rest of your home.
Not a shower fan? Try a hot bath instead.
If you sleep with a partner, each of you should have your own blankets/duvets. This allows both of you to wrap the bedclothes closely around your body and prevents the draft that might otherwise be created between your bodies. (It also prevents your partner from pulling all the covers off your body in the middle of the night.)
Don't have enough blankets/duvets for both of you to use? Time for a counterintuitive tactic: sleep naked. In this case you're not trying to trap your body heat as close to your own skin as possible—you're trying to share it with your partner.
Have sex and/or masturbate—but do it under the covers, so the body heat doesn't escape. (See if you can get it so hot that you start sweating.)
On the subject of escaping body heat: when you wake up in the middle of the night to use the bathroom, don't fling the covers back. That just lets cold air into your bed. Try to get out of bed without disturbing your layers of blankets and sheets, so they'll still be warm when you return.
If you have pets, let them sleep in the bed with you. Just this once.
Wash your sheets frequently, so you can pull them over your head without breathing old-sheet stench.
Consider sticking a little bit of your head outside of the covers, so the rest of you feels warmer by comparison. As Herman Melville wrote in Moby-Dick: "To enjoy bodily warmth, some small part of you must be cold, for there is no quality in this world that is not what it is merely by contrast."